The current government SOP allows for everyone to attend public masses. To safeguard the elderly and vulnerable among our community, all are ENCOURAGED TO BE FULLY MASKED UP when inside the church. Parishioners who are ill or under quarantine are advised to follow our livestreamed masses from home.
Please refer to our Timetable for Online Masses or official Facebook page for details on where to follow live broadcasts of masses.
Normal weekday mass schedule are as below. However, please call the parish office (via 05-2540176) to check on weekdays as there may be days when the parish priest will be unavailable.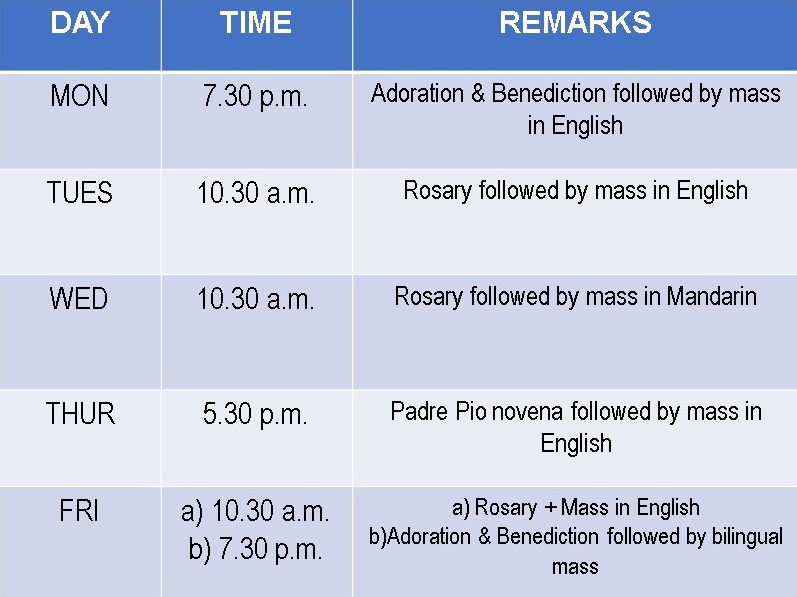 Weekend Mass Schedule in SMC
| DAY | TIME | LANGUAGE |
| --- | --- | --- |
| Saturday | Prayers at 5.30 p.m. followed by 6.00 p.m. Mass -This mass will also be livestreamed | English |
| Sunday | Prayers at 7.30 a.m. followed by 8.00 a.m. Mass | English |
| Sunday | Prayers at 10.00 a.m. followed by 10.30 a.m. Mass -This mass will also be livestreamed | 中文 Mandarin |
Marian Devotion
There will be Marian devotion on every 13th day of the month which falls on a weekday (Only if the 13th falls on Mondays to Wednesdays. If 13th falls on Thursdays and Fridays, please check the bulletin for schedule).
For Monday to Wednesday:-
- Rosary : 7.30 p.m. (at Marian shrine)
- Bilingual Mass : 8.00 p.m. (in church)
Prayers in SMC
You may download the common prayers used in our church by clicking on the links below:
1. Chaplet of St Michael, the Archangel (bilingual) - before mass every first, third and fifth weekend. For English version only, click here.
2. Prayer to St Michael - at the end of every mass
3. The Holy Rosary (in English and Mandarin 中文) - before mass every second Saturday and second Sunday
4. Chaplet of the Divine Mercy - before mass every fourth weekend
5. Version 1 :- Way of the Cross: Reconciliation - on Fridays during Lent
6. Version 2 :- Way of the Cross: Come Back to Me - on Fridays during Lent
7. Version 3 :- Way of the Cross: Via Maria - on Good Friday
8. Version 4 :- Way of the Cross : Accompanying Jesus on His final journey as His disciples ~ Do I love Jesus enough? - Narrated by Fr Anthony Liew
9. 苦路善功 : 我愿意陪伴耶稣走他在世上的最后旅程吗 + 我是否在苦路的每一处感受到祂对我的爱吗?- Narrated by Fr Anthony Liew (中文)
Click here for Rules for the Use of Chapel of Repose starting from January 2022.
Purchase of niches at columbarium
For purchase of columbarium niches at St Michael's church, kindly check with the parish office.
Please note that the guidelines on usage of the columbarium are as follows:
i. Only 2 tealight candles and a vase of flowers allowed on one niche ;
ii. Fresh flowers are to be removed after one week ;
iii.Niche must be kept neat and tidy at all times.
Purchase of cemetary plots
For purchase of cemetary plots, please contact the parish office directly.
Opening Hours for Religious Articles Centre in St Michael's Church
Click here to view a selection of religious items available in our SMC Religious Articles Centre.
| RELIGIOUS ARTICLES CENTRE | OPENING HOURS |
| --- | --- |
| Tuesdays | Before and after the 11.00 am mass |
| Saturdays | 10.30 a.m. to 1.00p.m. ; Also before and after sunset mass |
| Sundays | Before and after all masses |