Orang Asli Mission and Flood Relief - 27th December 2014 to 30th Dec 2014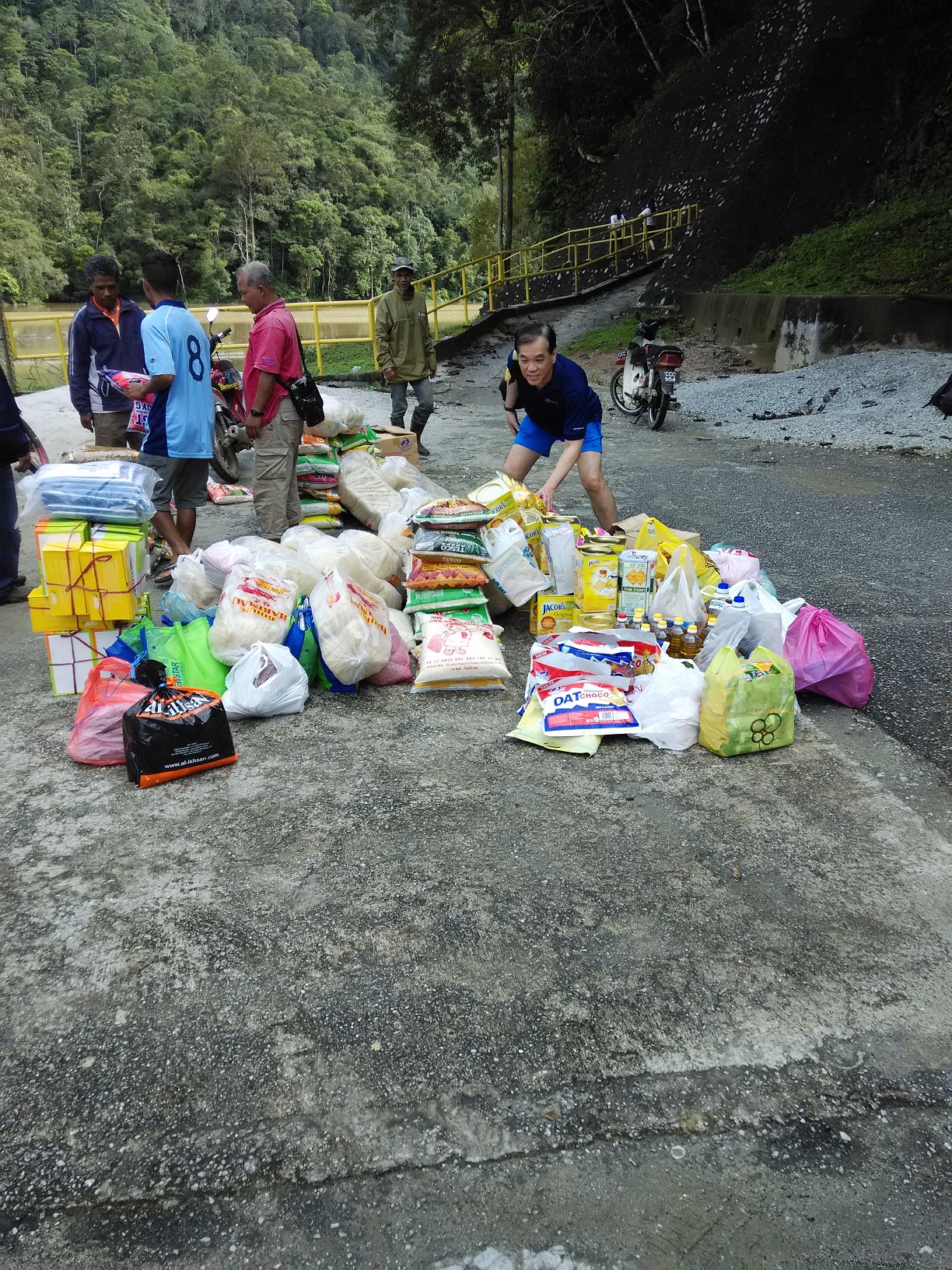 The parish SMC mission team were forced to postpone the Medical camp and delivery of food rations to Kg Air Bah Lawin in Gerik due to the adverse flood conditions. The team however managed to deliver much needed food rations to our orang asli friends in Kg Sekam,Tapah on 27th Dec 2014. The team also delivered food, blankets and clothing to a community affected by the floods in Kg Gajah. On 30th Dec 2014, the parish received 22 bags of rice, 120 cans of sardines, 44 cartons of noodles, 22 cartons of water, 36 torchlight with batteries from DAP Perak for the flood relief efforts.
Children's Christmas Party - 21st Dec 2014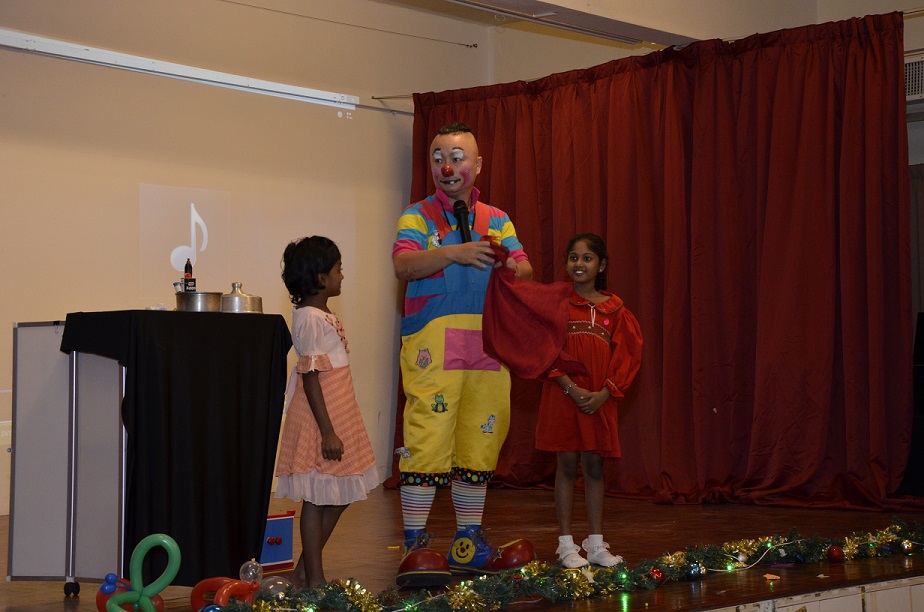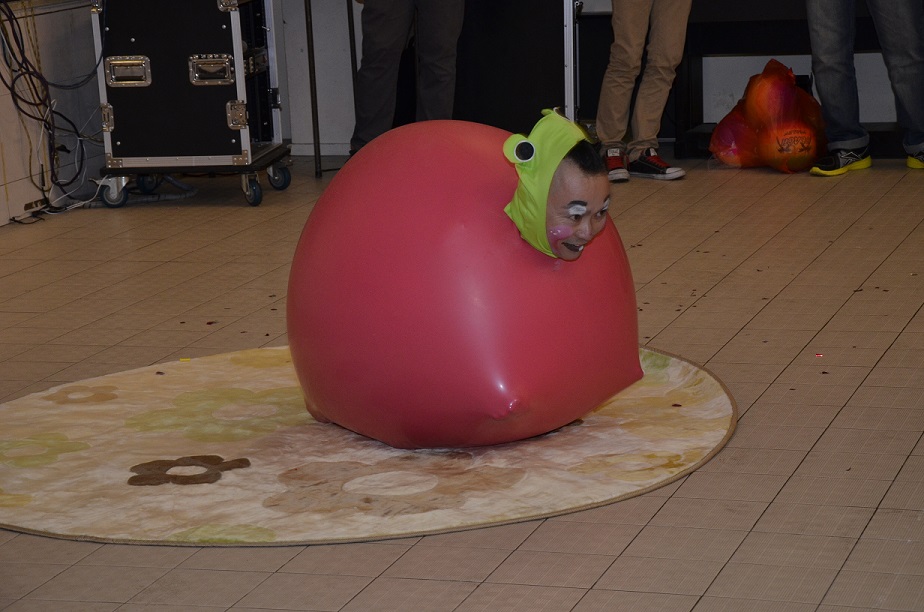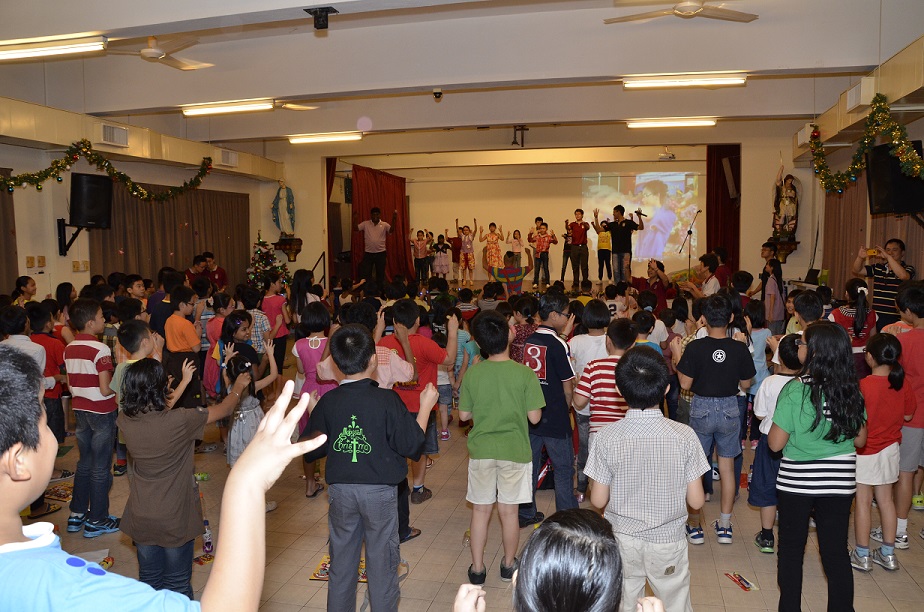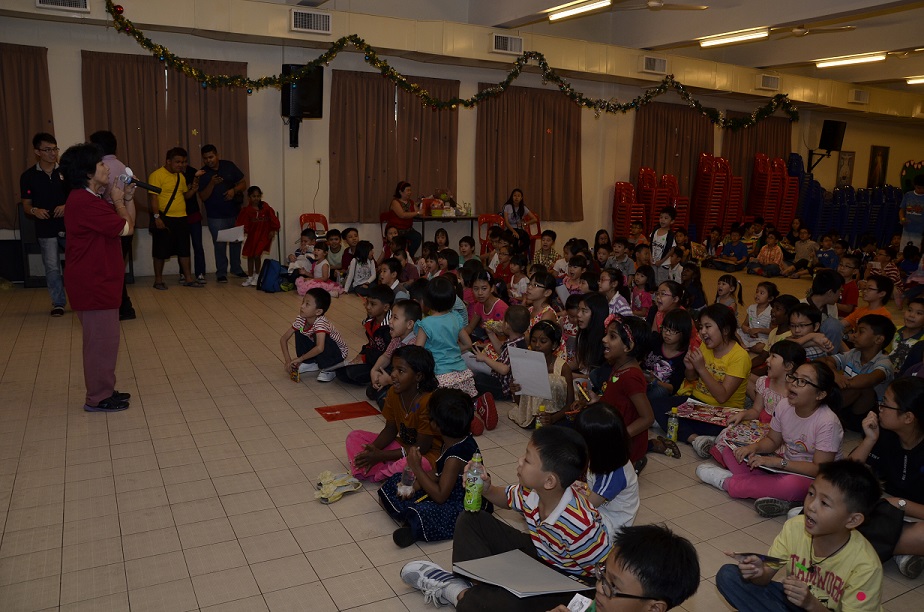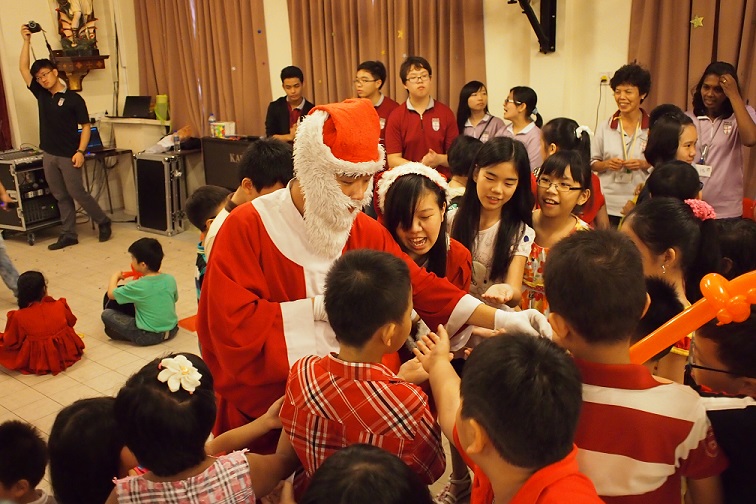 'A Malaysian Christmas' Concert - 6th to 7th Dec 2014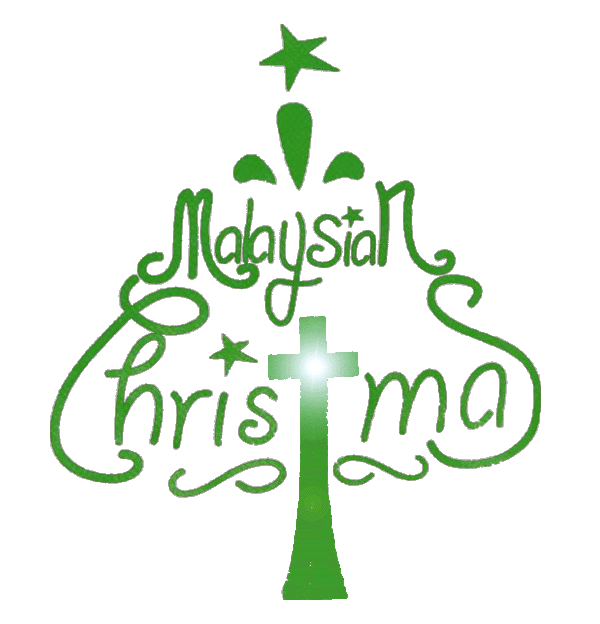 The parish proudly hosted a concert entitled "A Malaysian Christmas" featuring songs and performances from our orang asli friends from Kg Sekam,Tapah, Chinese youth group, English-speaking youth group, and Sunday School children of our parish. The concert was very well attended on both showings with many orang asli visitors coming all the way from Tapah, Sg Siput and Bidor for the Saturday show. All profits from the concert will be channelled to the parish's orang asli mission. Bishop Sebastian was in attendance for the Saturday show and gave a particularly spirited speech (in Bahasa Malaysia) about the parish mission and reminded all in attendance to be unafraid despite the dark and trying times we are presently facing because God is always with us.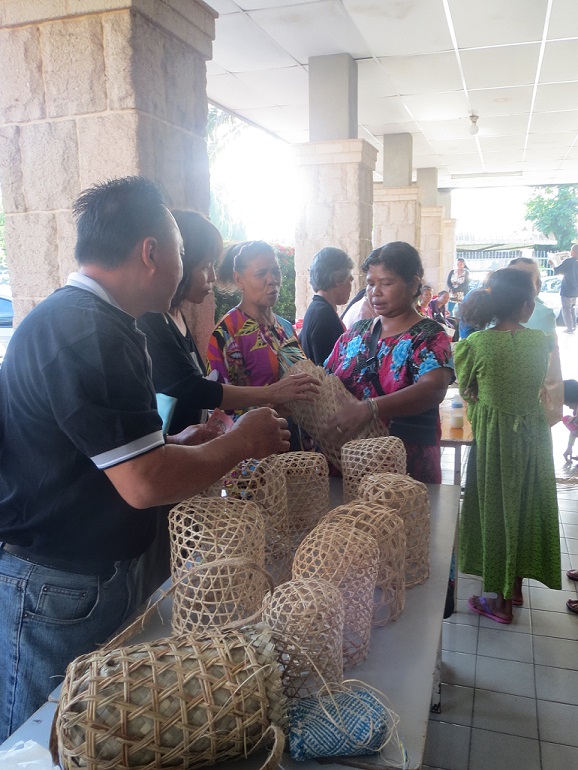 There was also a cultural exhibition on the morning of 7th Dec 2014,by the youth groups featuring Chinese and Indian culture, and demonstration of basket weaving by some of the orang asli women. Baskets weaved were also available for sale. Congratulations and a big "Thank You" to the concert organising committee, all the performers, SMC Orang Asli mission team, Sunday school teachers,all volunteers and parishioners who supported this project.
Click on photos below to view larger images.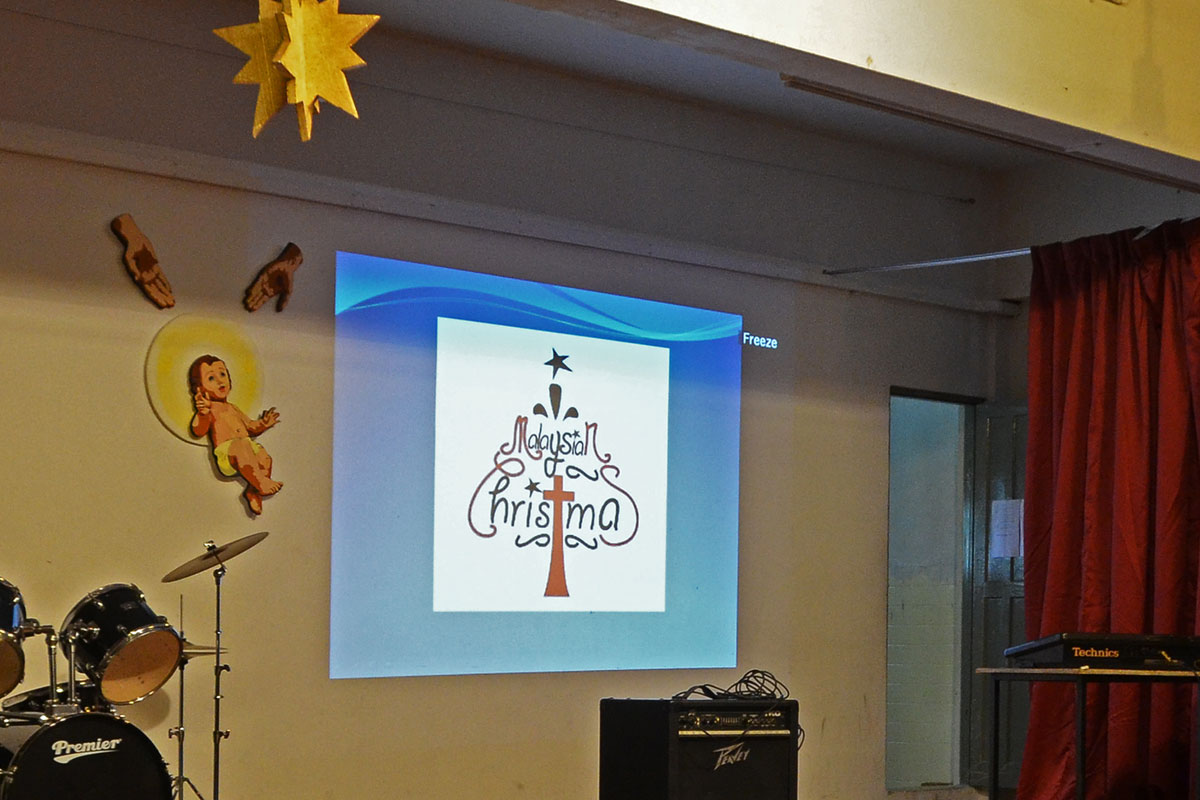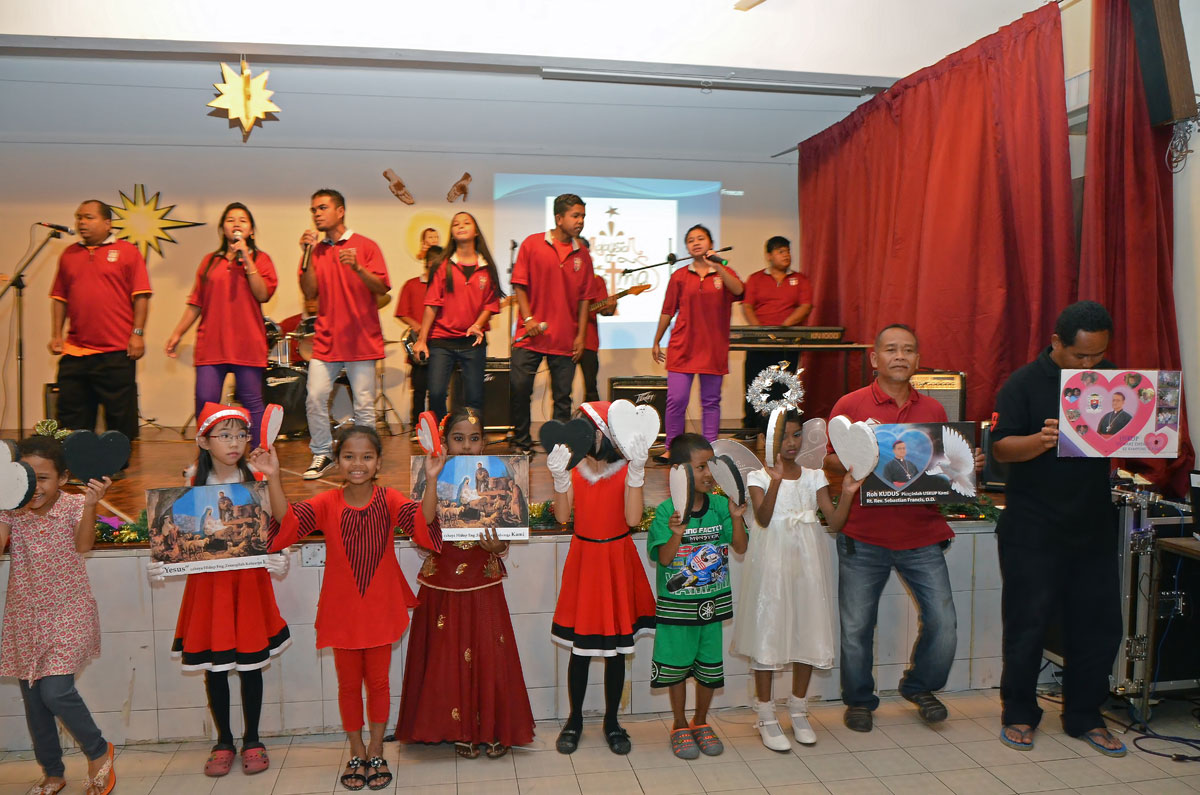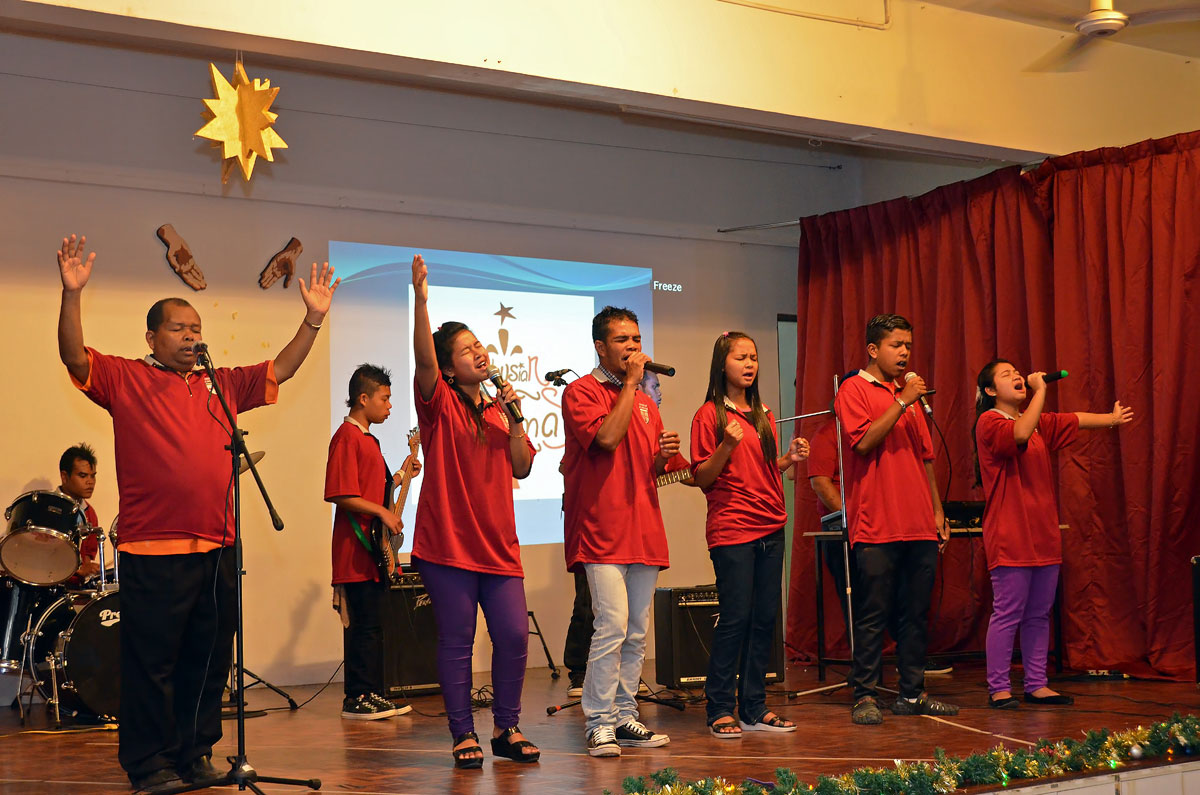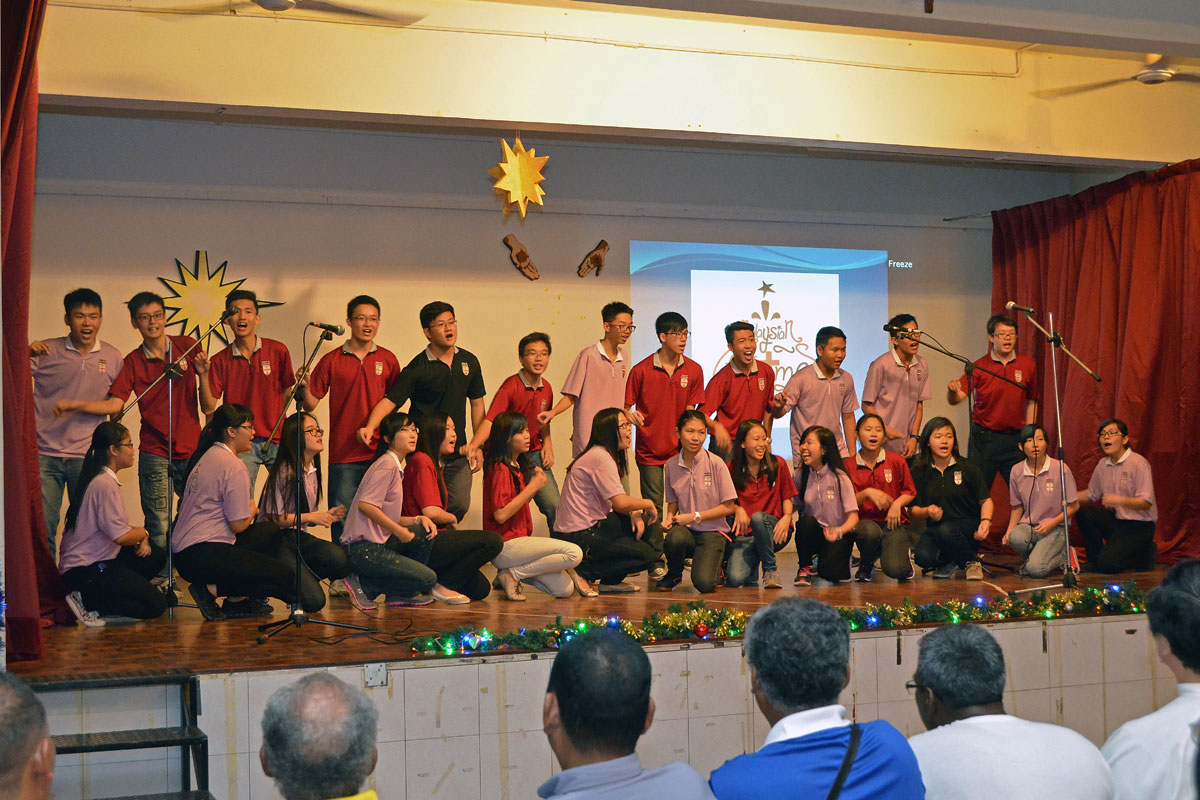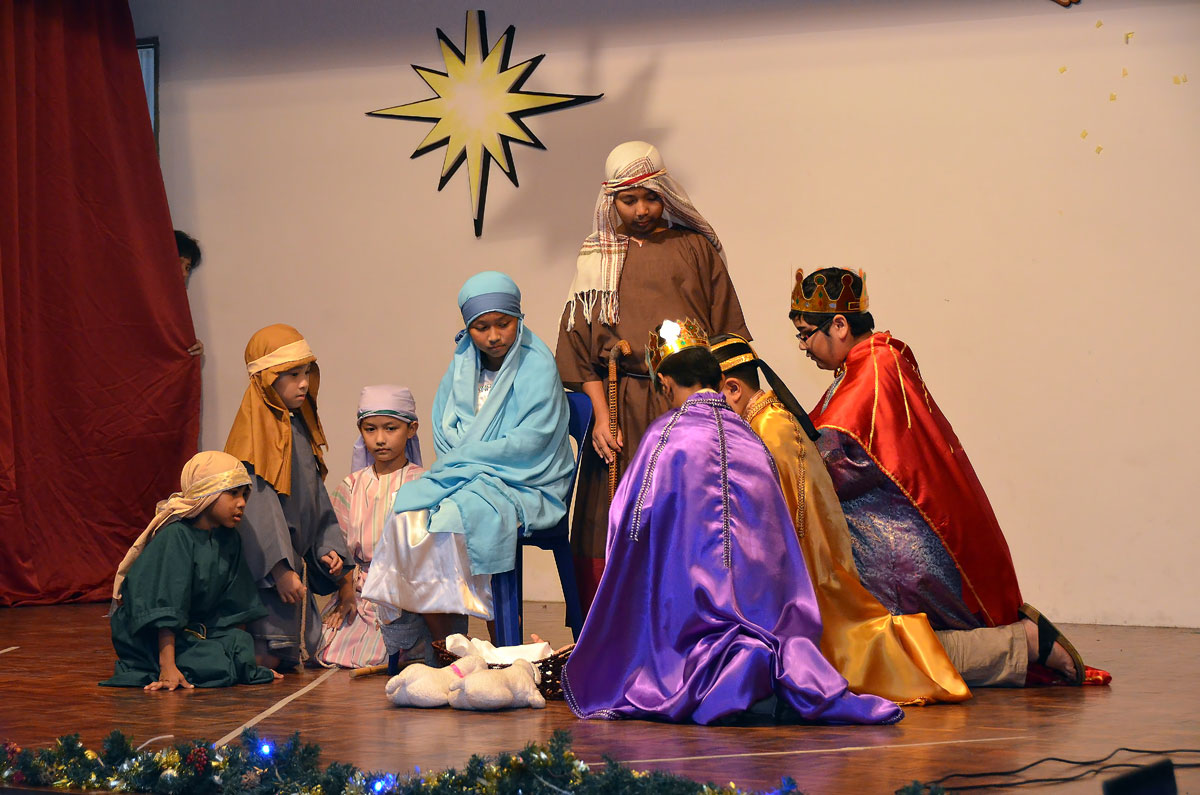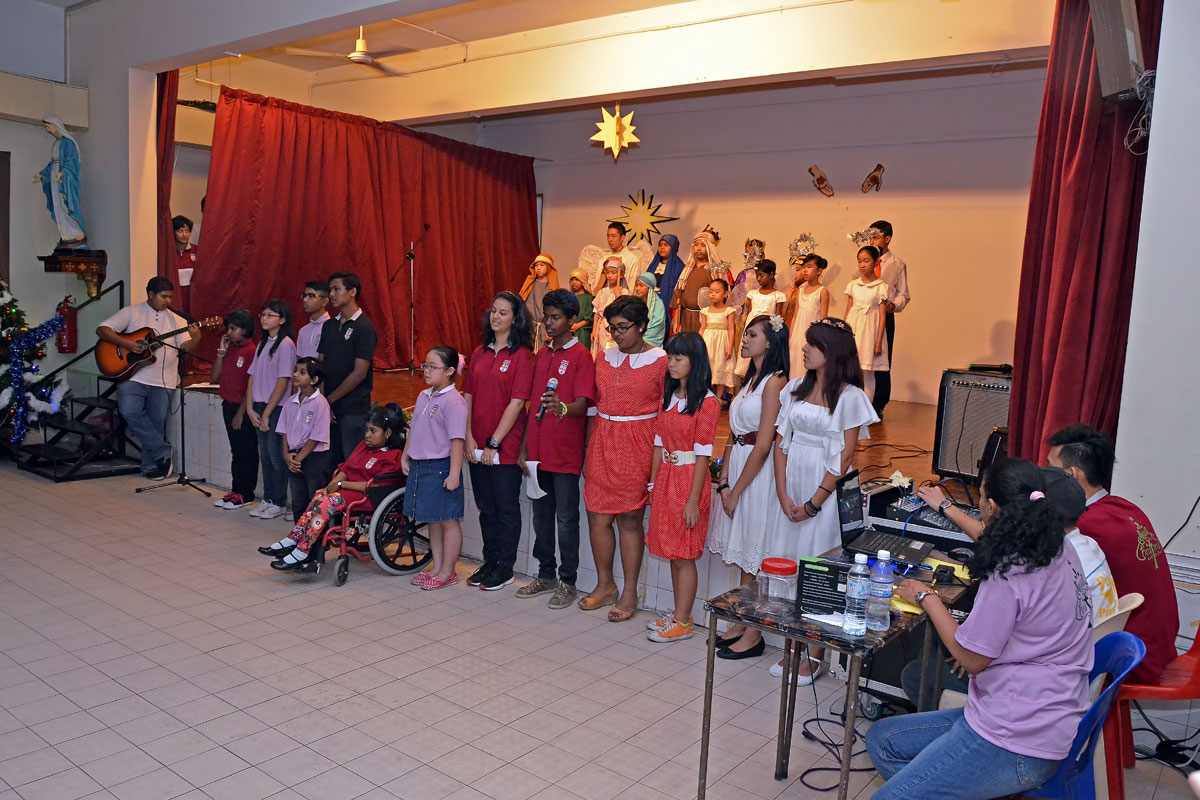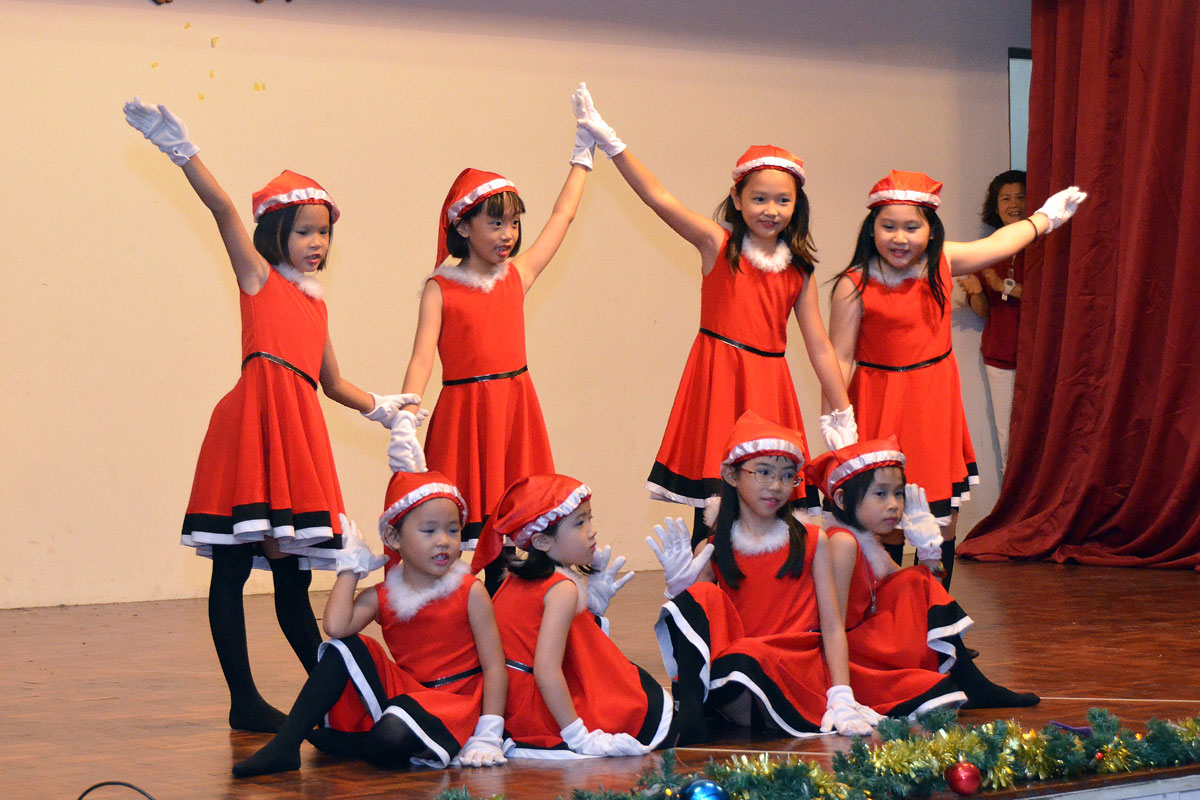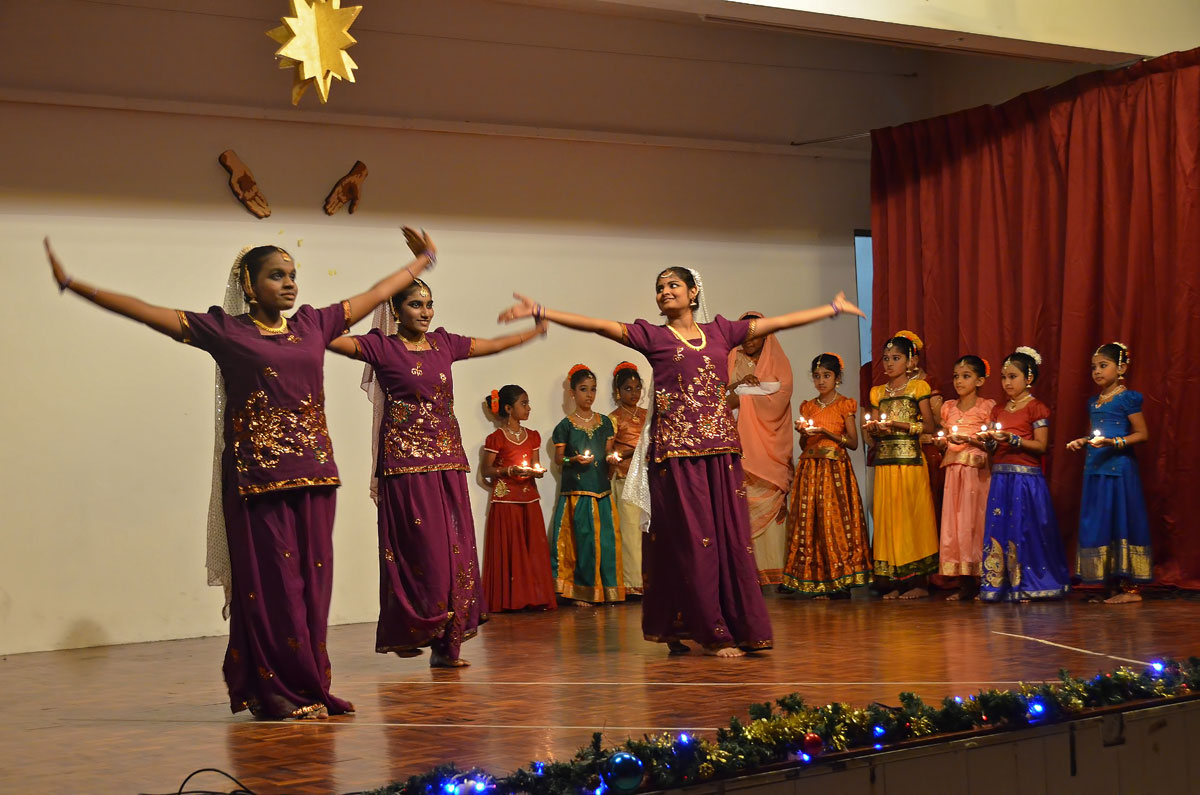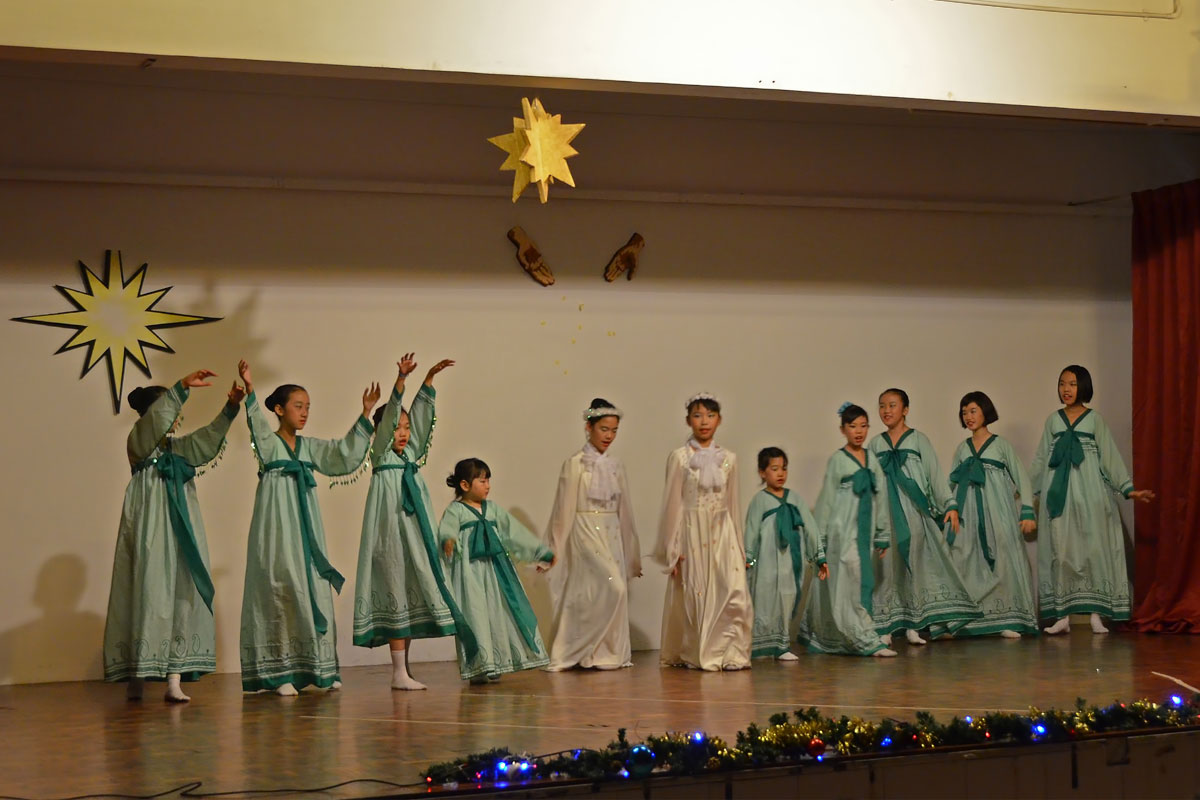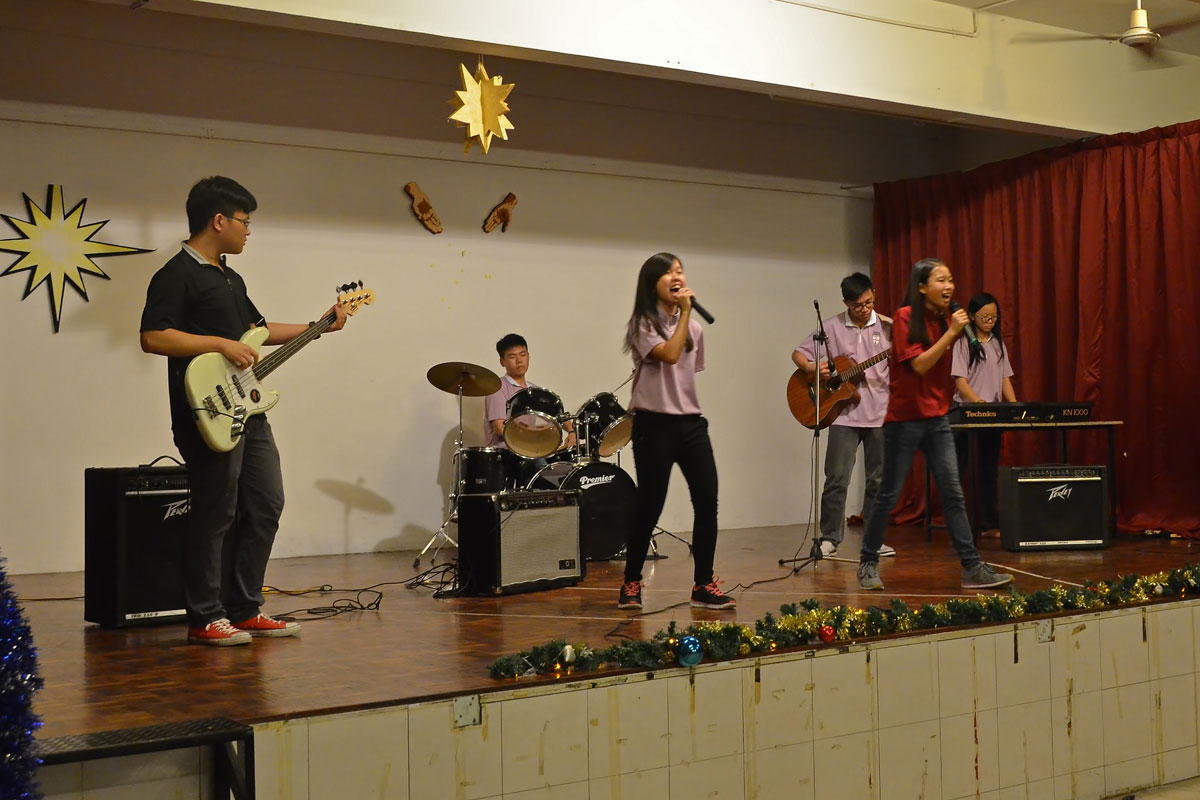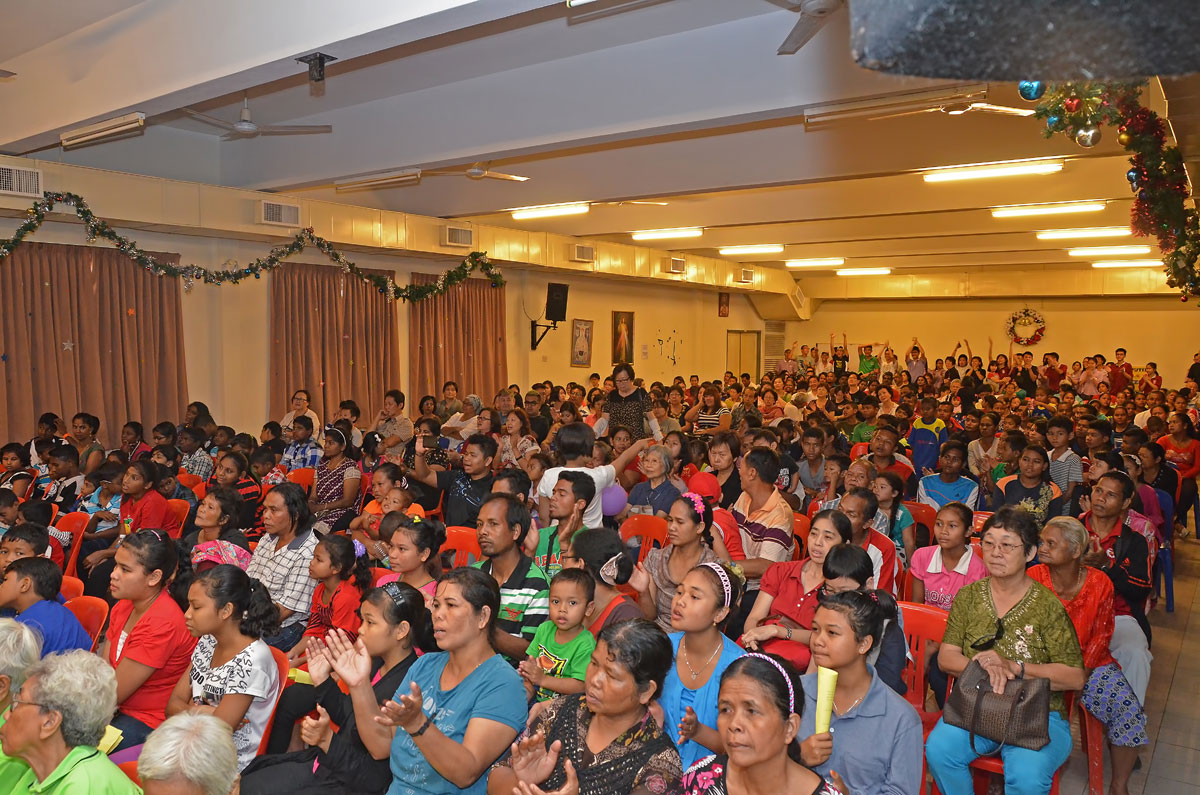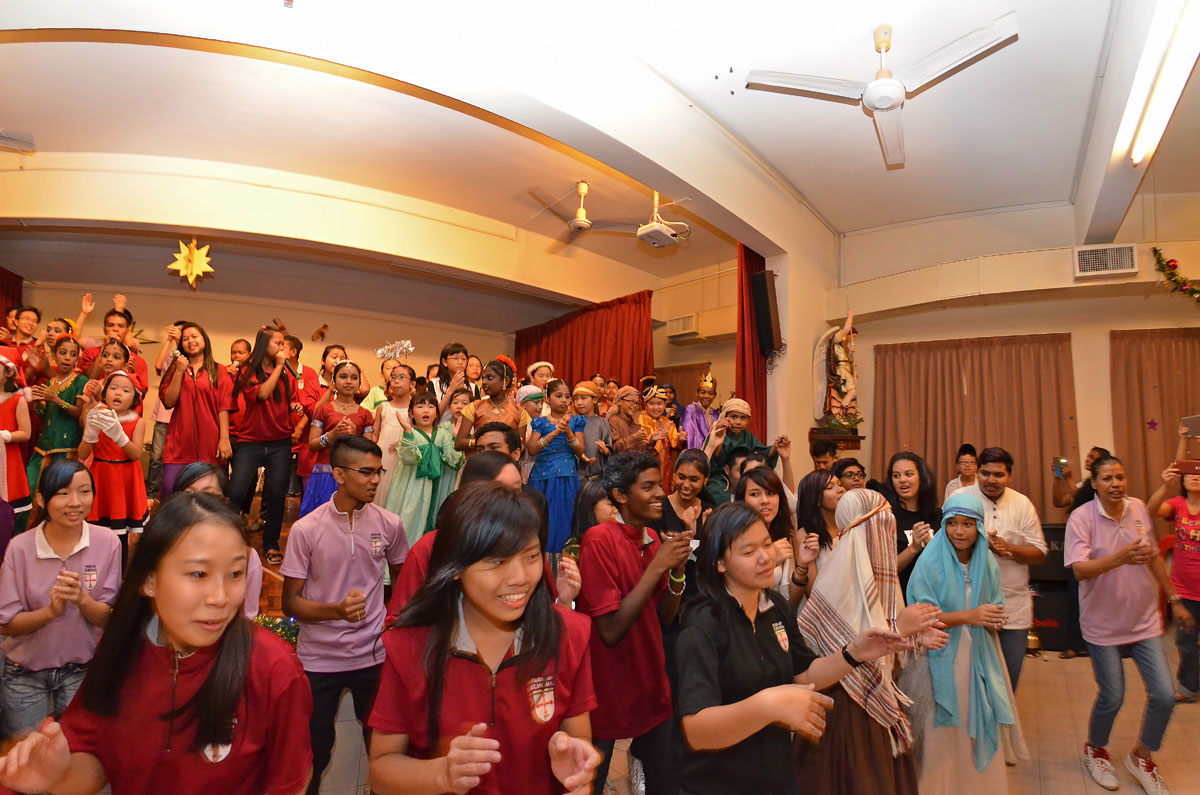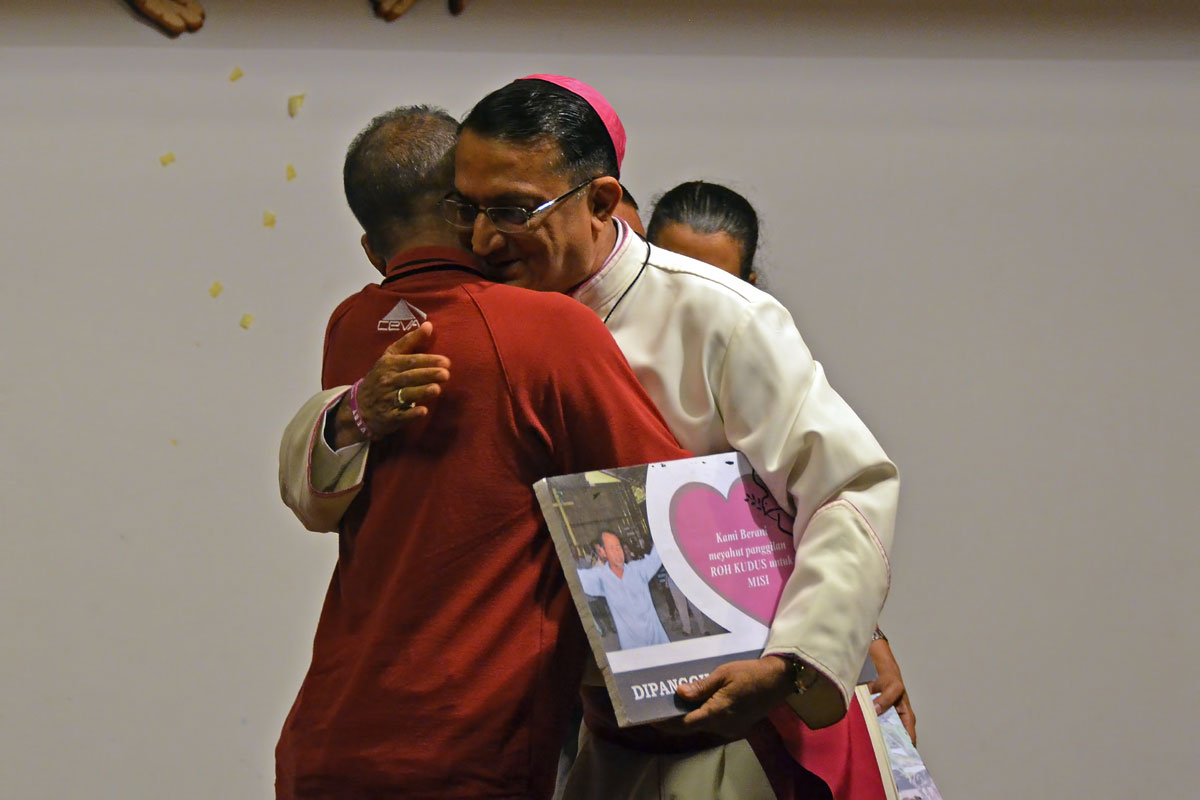 Blood Donation Campaign - 12th October 2014
A blood donation campaign was organised by the Chinese apostolate and Chinese BECs on 12th October 2014. The campaign was held at the Fr Peter Pang hall from 9.00 a.m. to 12.00 noon. The parish thanks all who generously contributed to this campaign.
Medical Camp at Kg Chang,Bidor - 1st Sept 2014
The SMC Orang Asli Mission team and volunteers conducted a medical health camp at Kampung Chang,Bidor. The group was met by our former parish priest Fr Aloysius Tan who led the team into the orang asli village at Kampung Chang. More than ninety orang asli villagers had their BMI checked and were given thorough medical inspections by the doctors on hand and prescribed medication accordingly. The parish thanks all doctors,volunteers and not forgetting, Fatimah Hospital for its kind contribution of the medicines.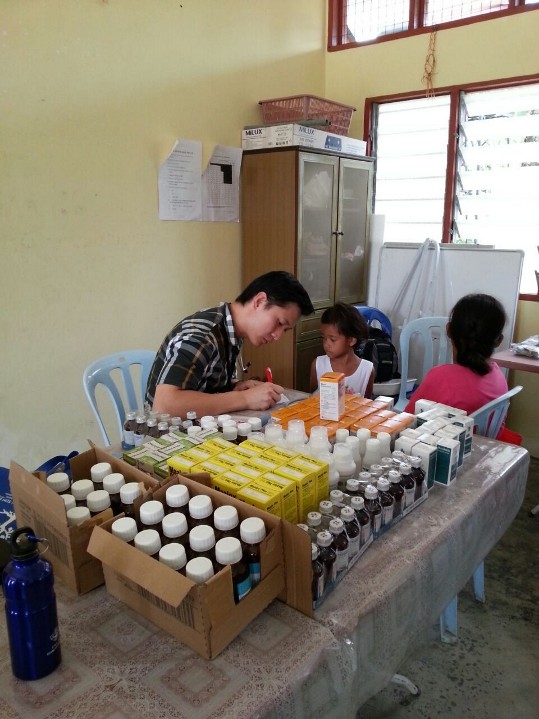 Prayer for Christians and Minority Groups Persecuted in the Middle East - 29th August 2014
A prayer service for persecuted Christians and minority groups in the Middle East was held on Friday,29th Aug 2014 in our parish. The prayer started with Adoration of the Blessed Sacrament, intonation of the Divine Mercy chaplet and other prayers. The prayers ended with a mass celebrating the Memorial of John the Baptist.
Receipt of Meal Packs from Sunway Group for Parish Project - 21st August 2014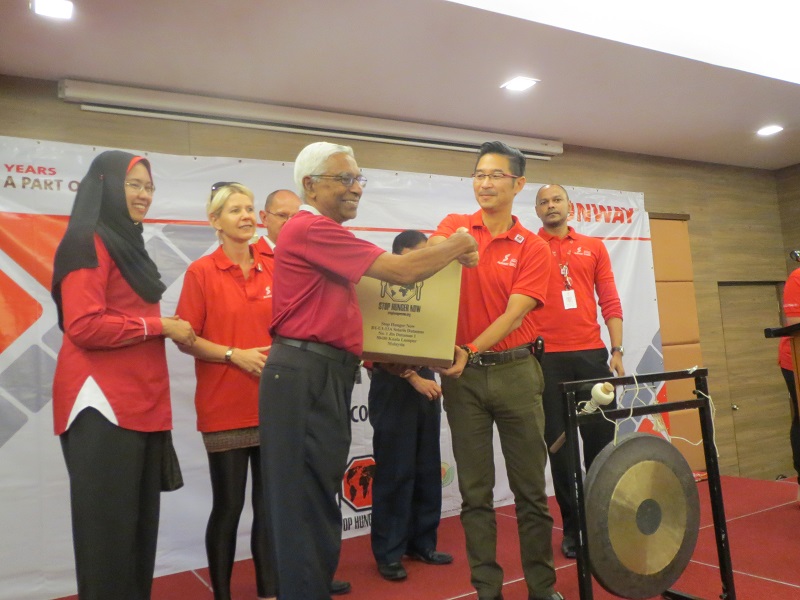 On 21st August 2014, the parish received a donation of "Stop Hunger Now" fortified rice (equivalent of approximately 20,000 meals) from the Sunway Group for its Orang Asli mission project. Mr.Francis Fernandes, Chairman of the Orang Asli Mission Committee of St Michael's Church accepted the donation on behalf of the parish from from Mr.Calvin Ho,Senior General Manager of Sunway Theme Parks. The meal packets are distributed by the Sunway group in collaboration with international hunger relief agency 'Stop Hunger Now'.
Parish Project Update (Orang Asli Mission) - 10th August 2014
Further to the updates of 31st May 2014 (see below), the following activities and tasks were completed as at 10th August 2014:
- Friendly football match and fellowship "kenduri" at the Orang Asli settlement during the Hari Raya holidays ;
- Delivery of donated industrial generator for the chapel/community hall ;
- Supply and delivery of shoes (sponsored by the Evergreens and St Theresa choir) ;
- Papaya planting project for Orang Asli children.


Other works still in progress:-
- Installation of LED lights and battery sets for households ;
- Supply and installation of plastic sheets for roofing buffer ;
- Regular delivery of basic provisions ;
- Assist the community to market some of their harvested produce i.e. durians,petai.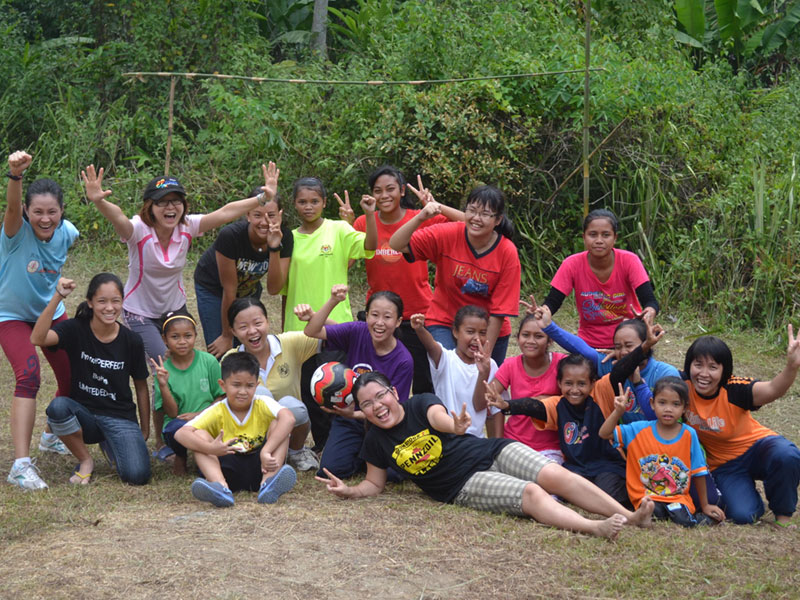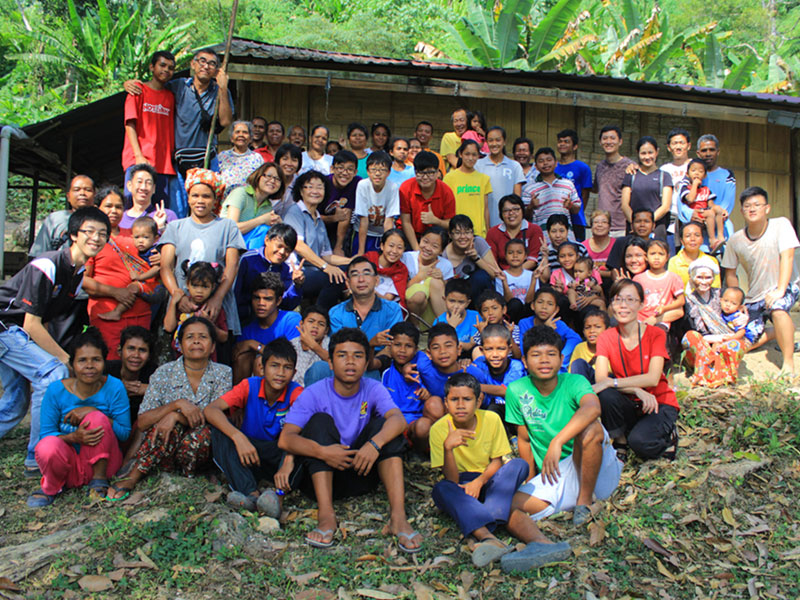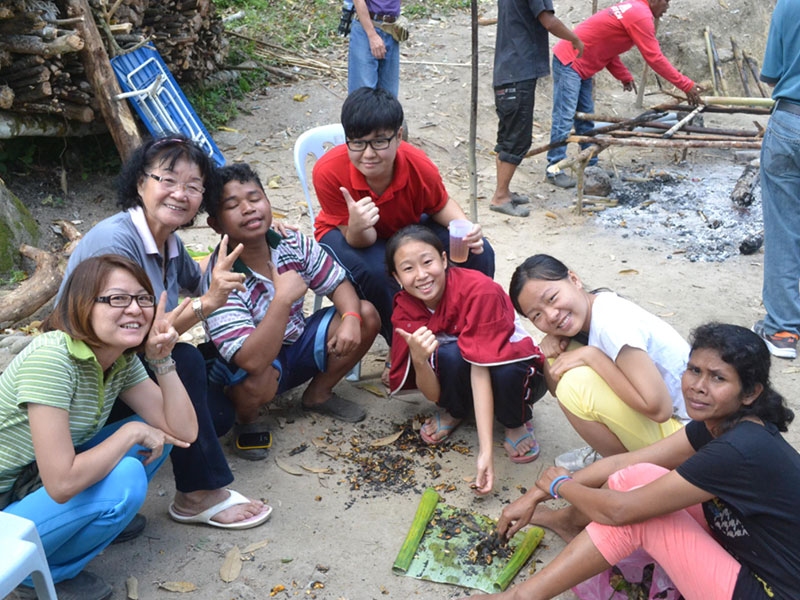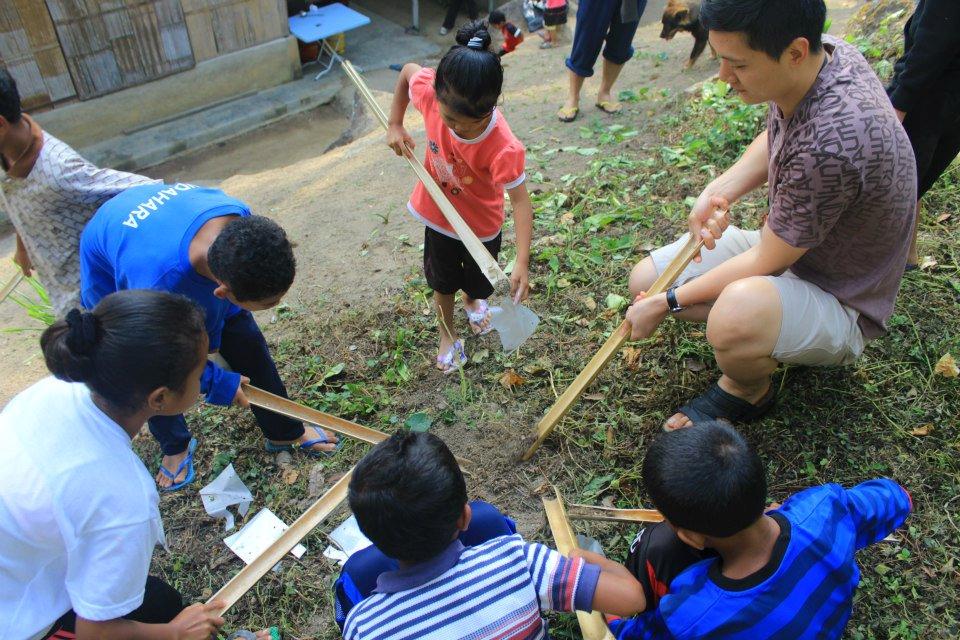 Prayers for MH17 and MH370 families - 9th & 10th August 2014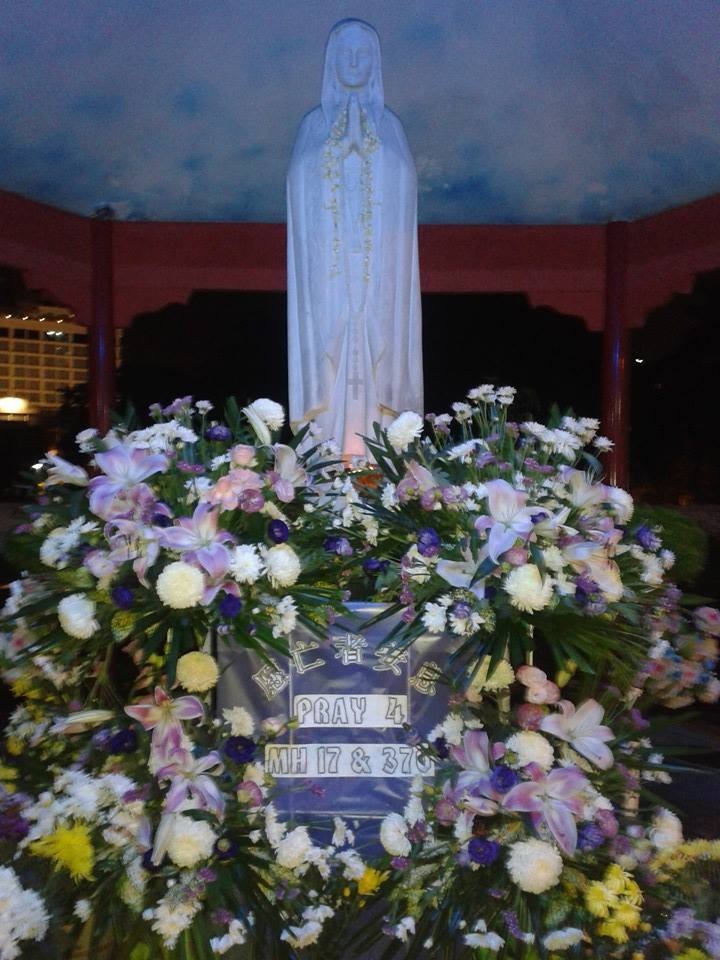 A floral wreath in remembrance of crew members and passengers of flights MH17 and MH370 was placed at the shrine of Our Lady from the evening of 9th August 2014. Some parishioners and BECs from the Chinese apostolate held prayers on 10th August 2014 to remember and pray for the souls of the victims of these tragedies and their families.
Exhibition on Relics of Saints and Blesseds - 28th & 29th June 2014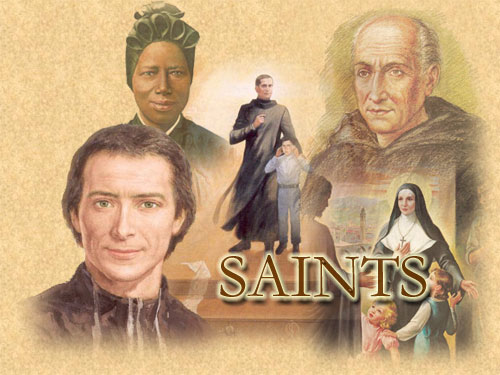 To enhance our knowledge of the holy people venerated in the Catholic church, relics of 35 Saints and Blesseds was displayed on 28th and 29th June 2014 after all weekend masses at the PAC hall. The exhibit was extremely educational and it explained the process of cannonisation and the different classes of relics displayed. Among some of the famous saints' relics were those of St Francis of Assisi, St Pio of Petrelcina and our patron St Michael, the Archangel.
Priestly Ordination of Rev Fr Anthony Liew - 6th June 2014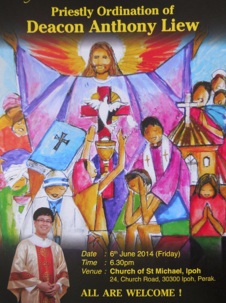 The parish of St Michael,Ipoh, proudly hosted the priestly ordination of Rev. Fr. Anthony Liew on the evening of 6th June 2014. Prayers in the form of a rosary, Chaplet of St Michael and Vocation prayer, were started from 5.30p.m. interspersed with projections of a video on Fr Anthony Liew's life journey towards priesthood.Souvenirs in the form of a notepad and bookmark depicting bible verses from Mark 1:11 and John 21:15-19 were handed out to all present during the Thanksgiving hymn. All priests, parishioners, friends and family of the newly ordained Fr Anthony Liew were treated to a simple buffet dinner after the mass. Congratulations to Fr Anthony Liew and a big "Thank You" to the volunteers and groups of our parish who helped to make the occassion a happy and successful event. To watch excerpts from the ordination mass (video length approximately 34 mins), click here. To watch the ordination mass in full (video length approximately 3.5 hours), click here.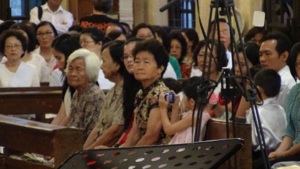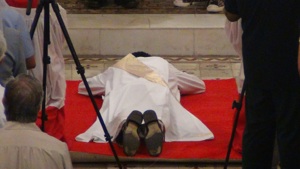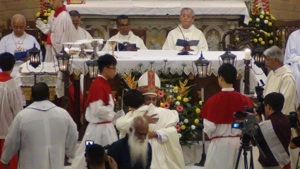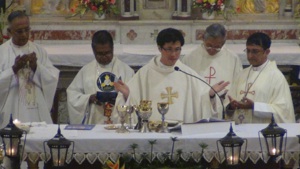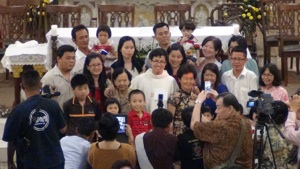 Parish Project Update - 31st May 2014
The outreach parish project adopted at our annual parish assembly was a mission to the Orang Asli in Tapah. The parish project committee has identified a series of initiatives targeted at improving the lives of Orang Asli in selected villages. The first initiative to raise funds in order to supply LED lights with battery packs to 27 Orang Asli families, received encouraging support from parishioners,some parish ministries and BECs. The mission team have already started to install the lights in some of the homes. Some communal sanitary facilities like a new sink and toilet were also built and a new television installed in the village chapel,thanks to kind contributions by SMC donors. BEC Chateau Garden organised a bake sale in April and proceeds from the sale went to buying school supplies for the Orang Asli children, among other things.
The parish will use the funds collected to roll out the other planned initiatives in stages. To date (31st May,2014), donations collected amounted to RM34,645.00. This is an ongoing parish project and the parish welcomes all donations towards this cause. Cheque donations can be made out to St Michael's Church, Ipoh.
The mission survey team and two doctors from our parish completed a health camp at the village on 31st May 2014. About 50 orang asli villagers including babies were examined and administered to. A health talk was also given by the doctors. Listed below are pictures of some of the work completed to date at the Orang Asli village:-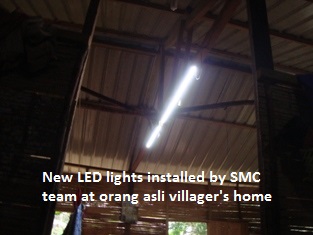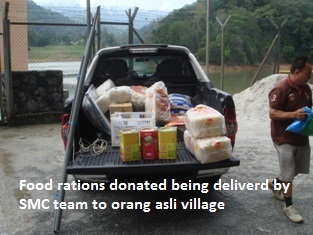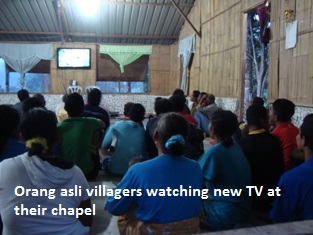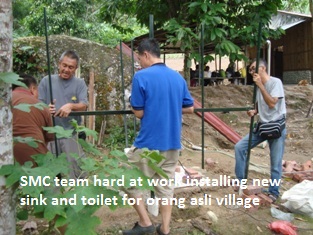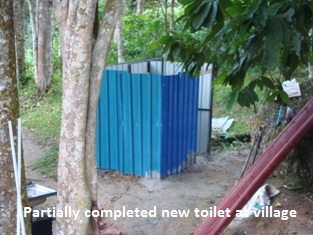 Memorial Mass for Fr Anthony Chong - 16th May 2014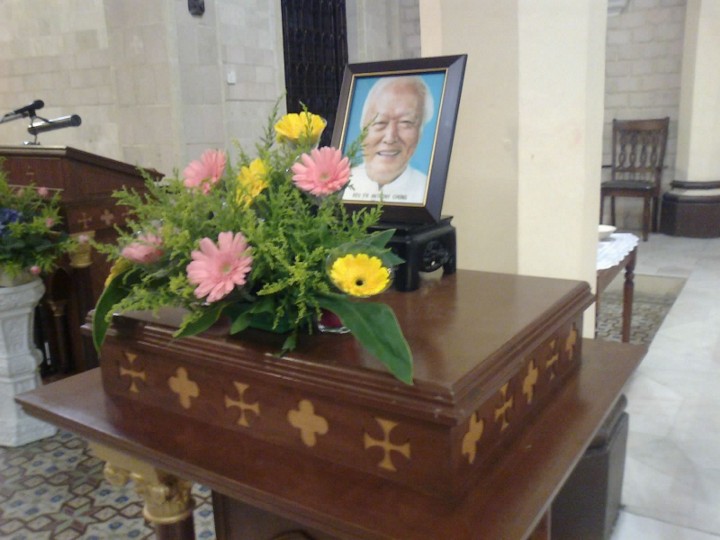 The parish held a mass in memory of Fr Anthony Chong on Friday,16th May 2014 at 8.00p.m. There was a fellowship gathering after mass for all who gathered, which consisted of Chee Cheong Fun and drinks kindly catered for by a few members of the Chinese choir.
Fr Robin Andrews' 50th Anniversary of his Sacerdotal Ordination - 21st April 2014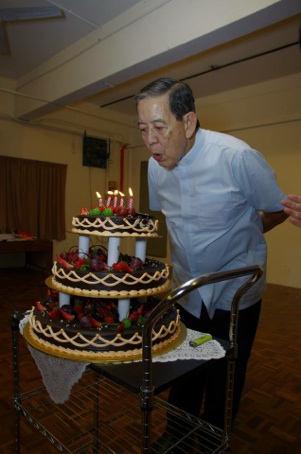 The parish was honoured to have had the opportunity to celebrate Fr Robin Andrews' 50th anniversary of his ordination as diocesan priest on the evening of 21st April 2014. A thanksgiving mass was held at 6.00p.m. and concelebrated by our parish priest Fr Stephen Liew and other priests which included head of Perak deanery Fr Michael Dass and Deacon Anthony Liew who will be ordained in June. Many parishioners from our parish as well as Batu Gajah and Fr Robin's family members were present for this happy occasion. This was followed by a dinner in Fr Peter Pang hall.Click here for scenes from the occasion.
Easter Vigil - 19th April 2014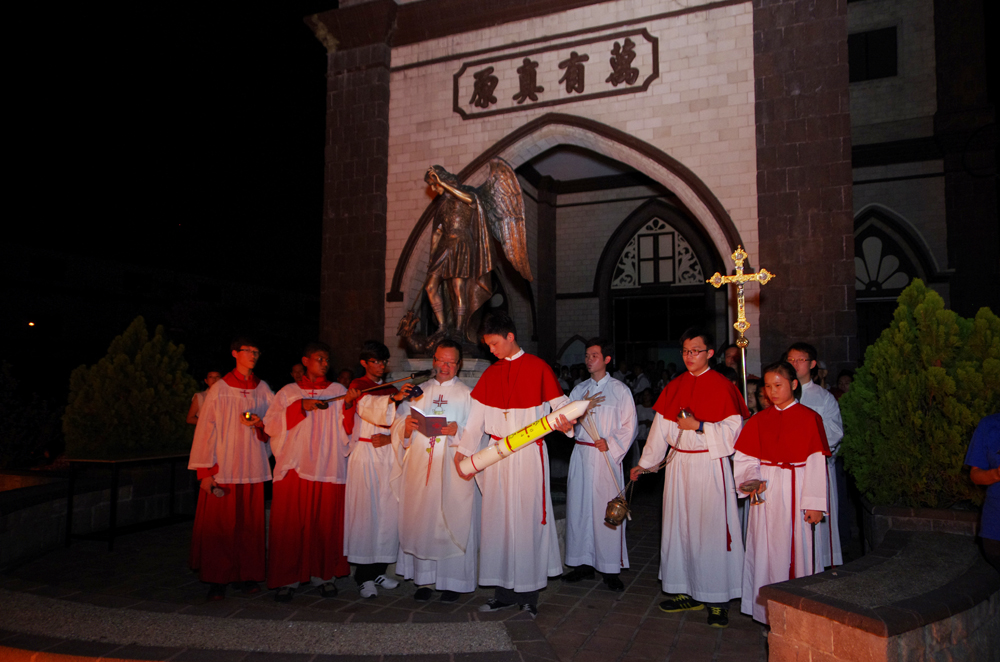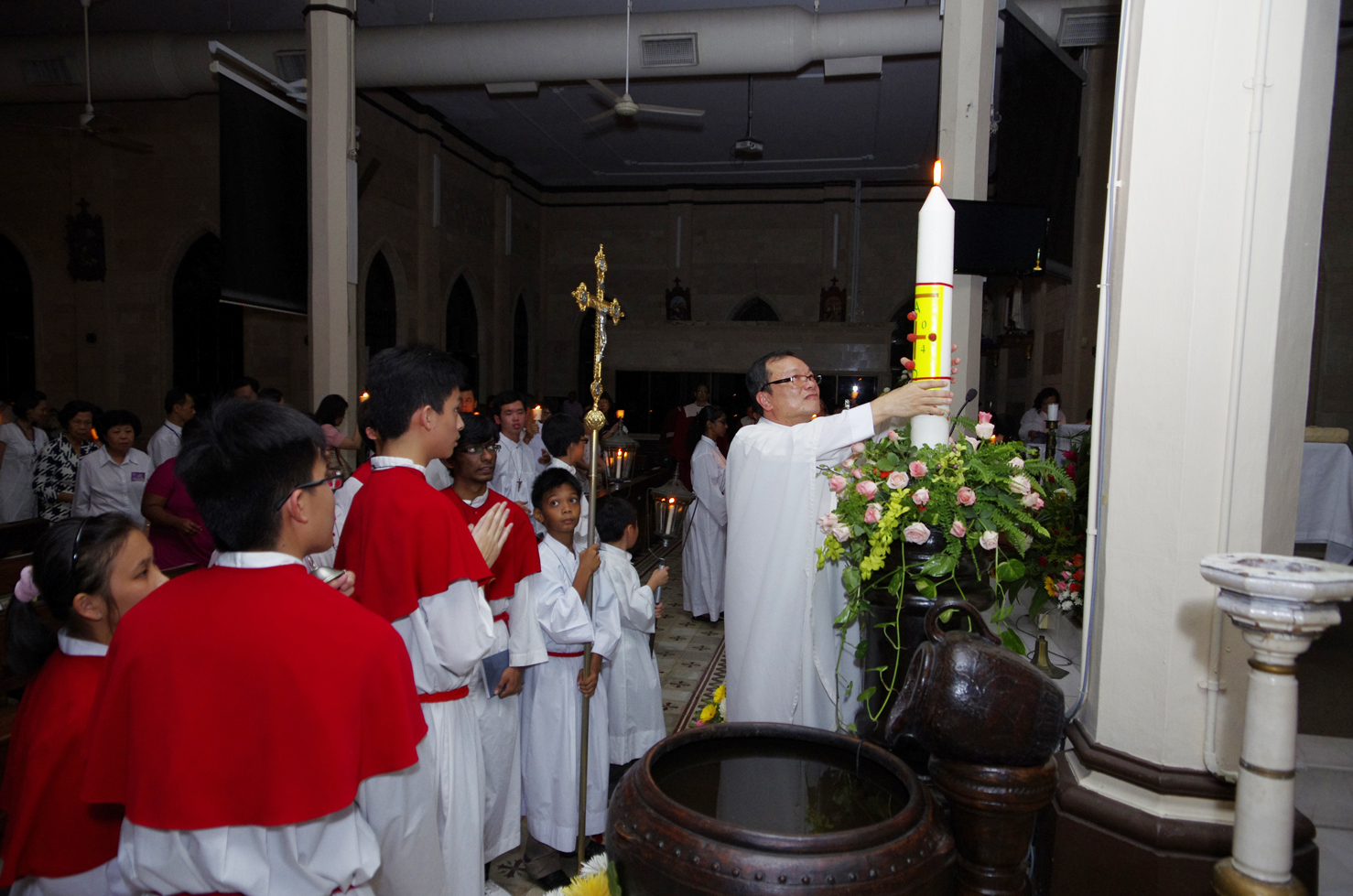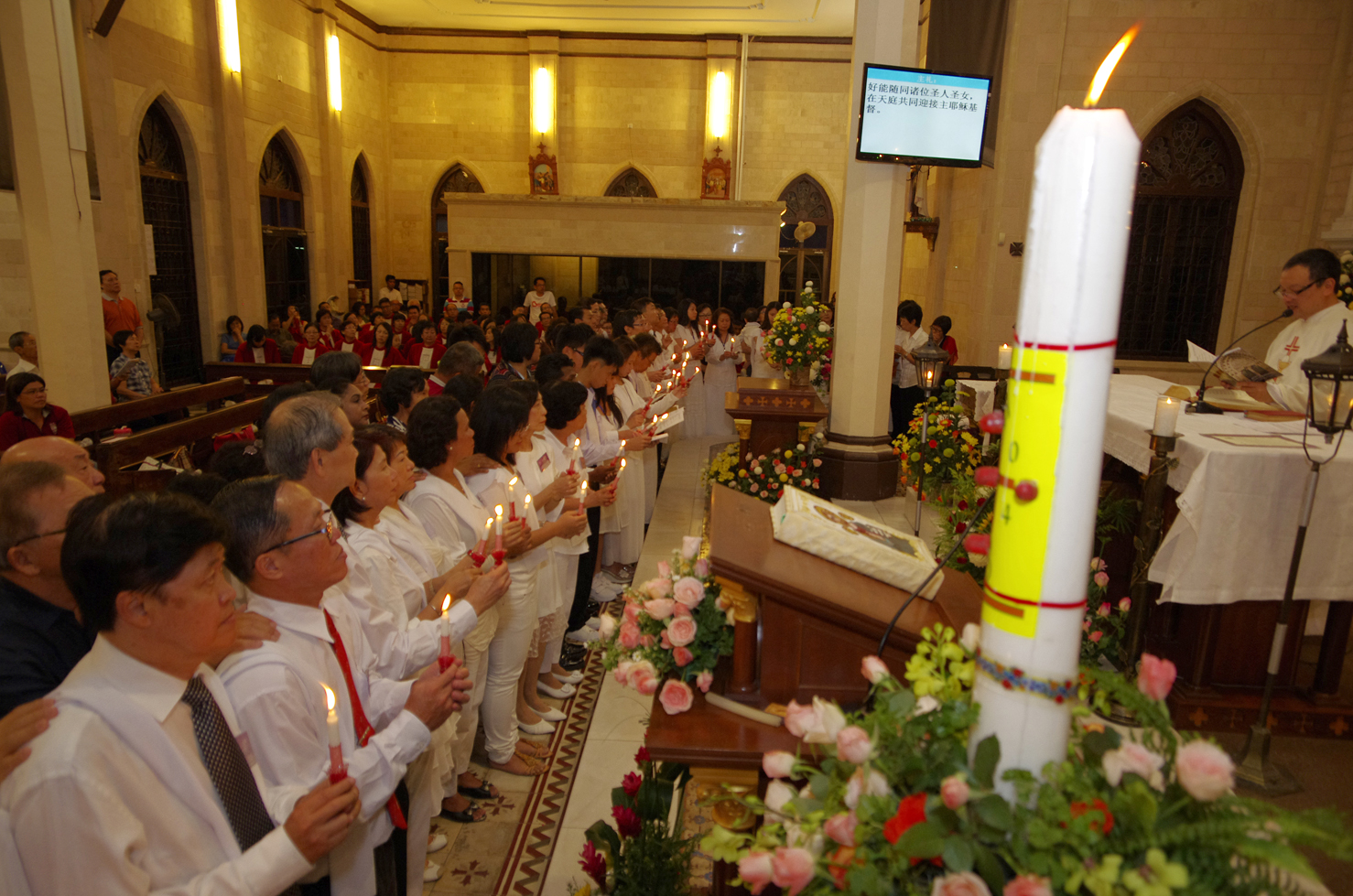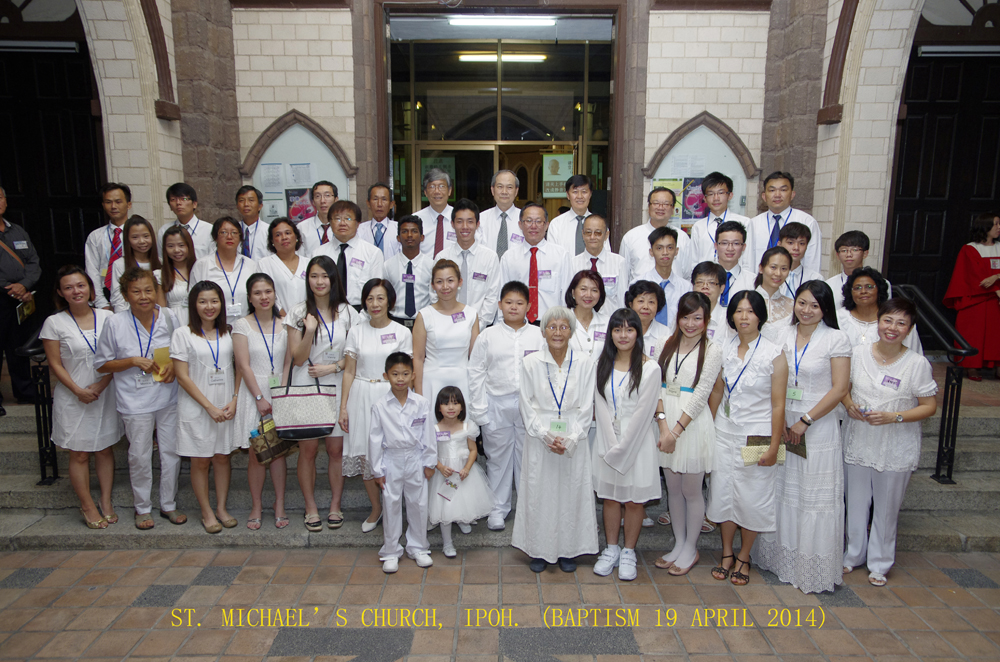 This year's Easter Vigil on April 19th, saw the church welcoming 48 people into the Catholic family. Click on the photos for larger views.
Launch of Lenten Campaign 2014 - 9th March 2014

The Penang Diocesan Lenten Campaign for 2014 was launched on the Sunday morning masses of 9th March 2014. The theme for this year's lenten campaign is Charity:The Light of Faith.The Love Squad comprising the Youth Group of our parish presented a simple but touching sketch and slide presentation highlighting the shocking worldwide statistics of people living in poverty and people living with abuse. The Lenten Campaign envelopes were later distributed to all parishioners as they were exiting the church.
Total Lenten Campaign donations collected from our parish this year was RM40,947.05/=.
Chinese New Year "Chap Goh Meh" Dinner - 16th February 2014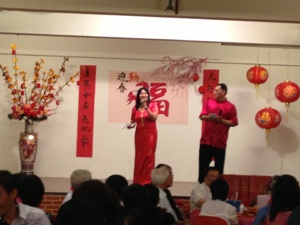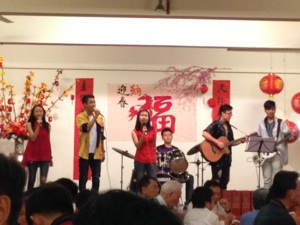 Click here for more scenes from the Chap Goh Meh dinner.
Commissioning of Extraordinary Ministers for Holy Communion - 2nd February 2014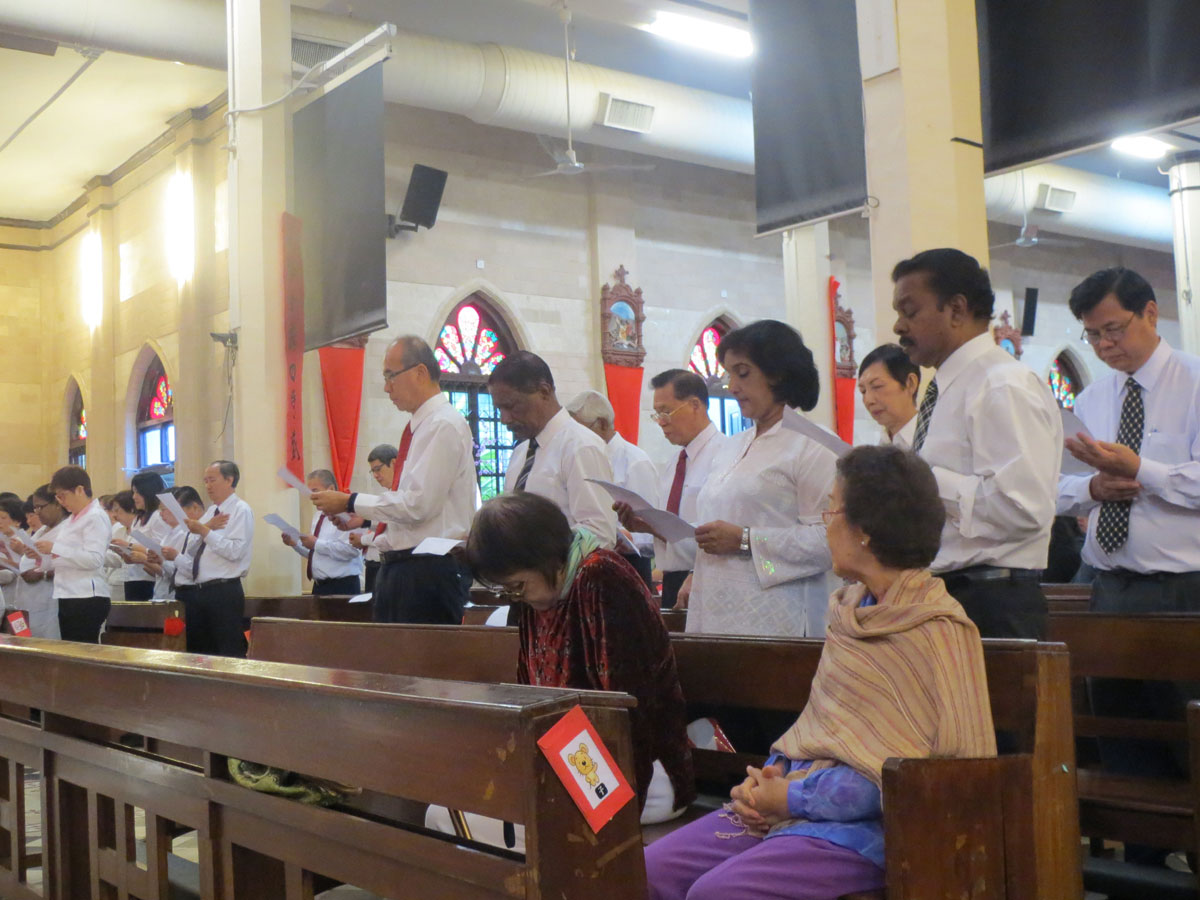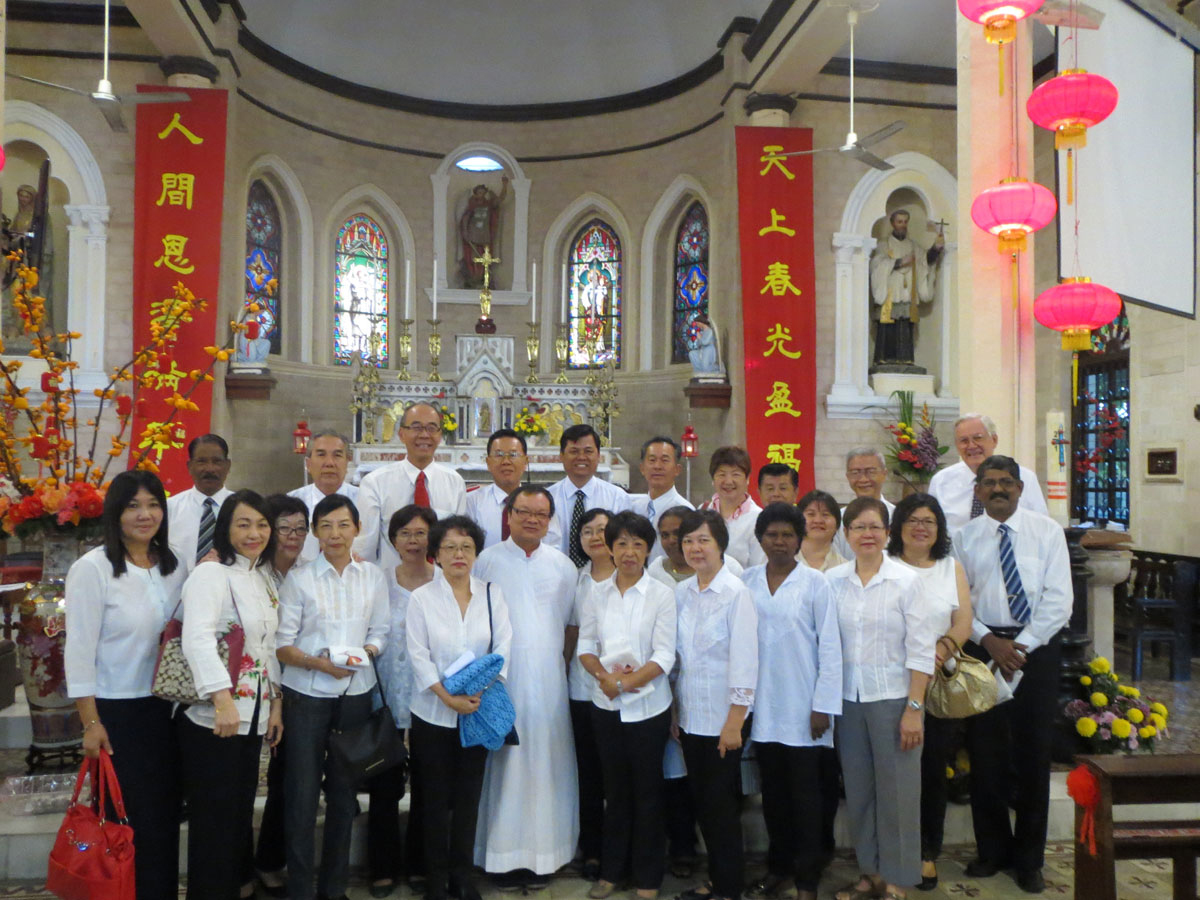 The commissioning of our parish's new Extraordinary Ministers for Holy Communion (Communion Ministers) and recommissioning of existing Communion Ministers was done during the Sunday morning mass for the Feast of the Presentation of our Lord. The Communion Ministers pledged their commitment in the sight of the congregation. Fr. Stephen Liew then presented each minister with their official sash. He also thanked them for being willing and offering to serve in this new capacity.
Ponggal - 19th January 2014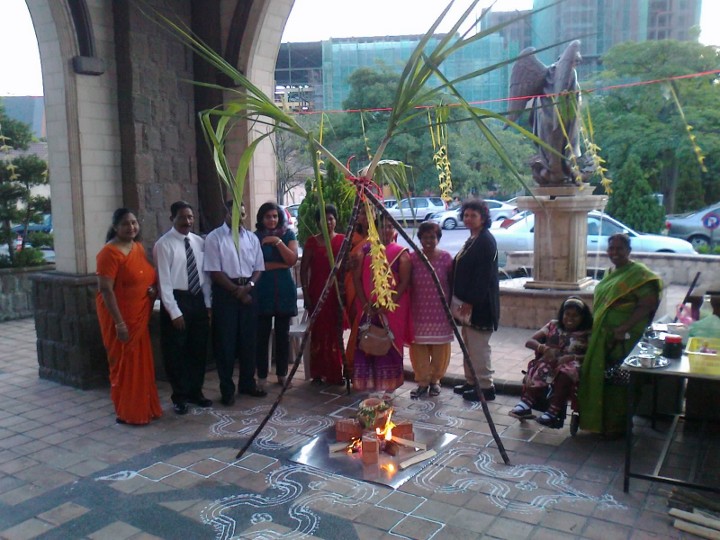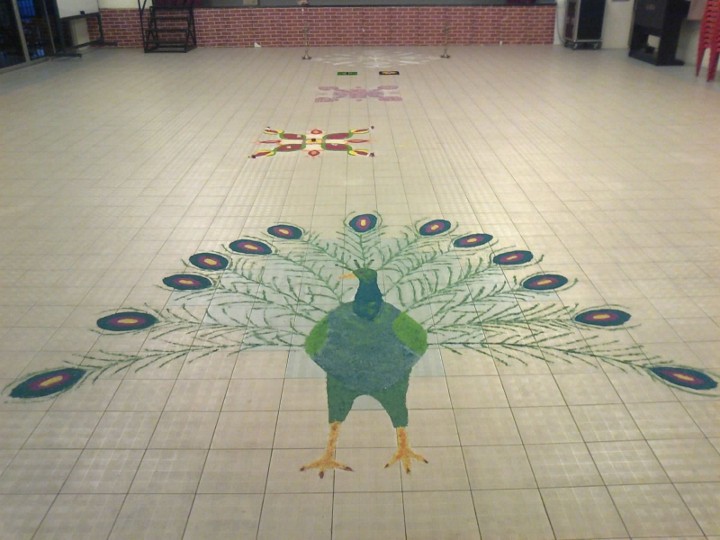 The parish's Indian Group celebrated the Indian Harvest Festival "Ponggal" on Sunday,19th Jan 2014. The traditional boiling of milk in a clay pot was done at the porch of the church before mass. Parishioners were also treated to traditional Ponggal treats like sticky rice and beautiful displays of colourful "kolam" at the PAC Hall.
Commissioning of Sunday School Teachers - 12th Jan 2014
Twenty-seven Sunday school teachers were commissioned at our church on the Sunday morning of the mass celebrating the Baptism of the Lord.They professed their commitment to serve and teach the Christian faith to the children of our parish in front of the congregation and the altar. Fr. Liew blessed the teachers with holy water after their profession.