NEED A LISTENING EAR? TALK TO OUR NUNS AND PRIESTS
Are you feeling overwhelmed,troubled or spiritually dry due to the covid-19 pandemic? Some of our Catholic priests and nuns are making themselves available to listen to you. You may telephone any of the priests or nuns listed below based on the schedule given: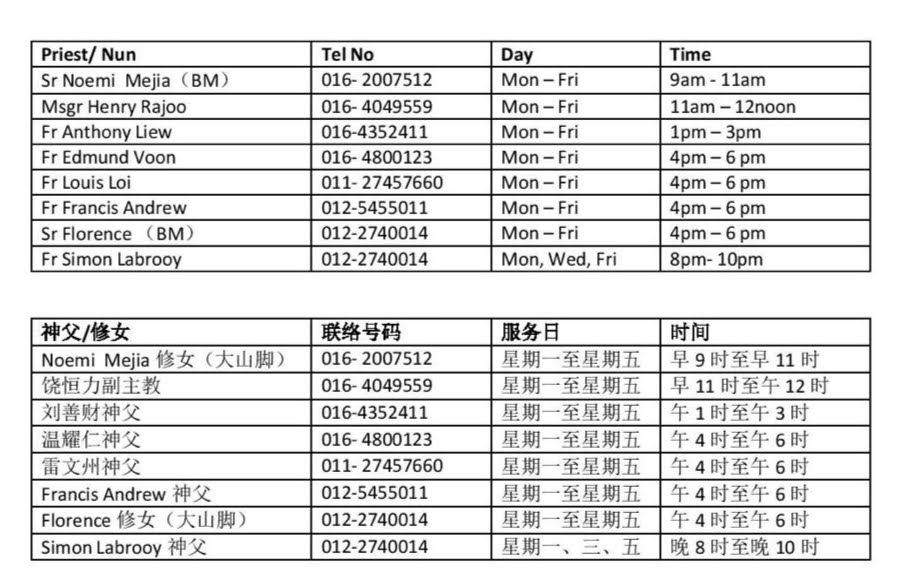 ALTERNATIVE VIRTUAL COUNSELLING HELPLINE AVAILABLE
Dear friends,
The COVID-19 crisis seems to be a call for us to be unconventional yet fitting + relevant in our service.  We do our best to be 'the voice of calm and comfort' in our community and we would like to continue to be God's channel of love today during this challenging time. Kindly note that MJD Counselling Ministry is available for virtual counselling during lockdown for those who have sufficient data/WiFi and closed/private space at home. Session is private, secure and all data is encrypted on a safe and ethical platform (Mobile-friendly too).   Appointment and further inquiry can be made via our Counselling Helpline at 016-7099 465.
Stay positive, 
MJD Counselling Ministry(Grace)
各位主內的兄弟姐妹:
新冠肺炎疫情肆虐,为了疏解大家身心上的压力与焦虑,同时陪伴一起面对人心惶惶的日子。
甲柔教区辅导中心在这行动管制令期间提供网(线)上心理咨询的平台。
请于播电的方式,联络进行预约及询问详情:016-7099465 (本中心提供英、华、巫、淡语辅导员)
[所有的心理咨询及个人资料绝对保密] 请保持正面、冷静!
在主内一切平安,
王春新神父
甲柔教区辅导中心
---